.
It can easily be accessed by going to the Camden High School home page and clicking on athletics. When you see the various sports come up, just click on Jeff Herron and it will be displayed. Again, I want to thank all those who have helped me the last 3 years with their time and support. It has truly been my pleasure. Go Cats!!!!!
Camden currently owns a 53 game winning streak in the
regular season. That is second all-time in the state of Georgia behind the 56 that Macon County put up from 1991-1997. When Camden finishes the year 10 - 0 with three more wins, they will be tied for the record. Here is the list of teams with the longest streaks.
56, Macon County, 1991-97
53, Camden County, 2000-current
53, Lincoln County, 1975-80
47, Hart County, 1997-01
47, SE Bulloch, 1970-75
46, Valdosta, 1967-72
44, Avondale, 1963-67
43, Valdosta, 1981-85
41, Marist, 1997-01
40, Benedictine, 1979-82
40, Marist, 1989-92
40, Manchester, 1964-68
40, McEachern, 1986-89
40, Thomson 1966-70
Information courtesy of the Georgia High School Football Historians Association (
www.ghsfha.org
) Thanks for your hard work!
Camden County 42 - Windsor Forest 7
next up!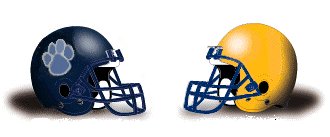 Camden County vs. Beach High
Kickoff is set for Friday, October 14th at 7:30 PM at Chris Gilman Stadium
Savannah Country Day School is located in the southside of Savannah at 824 Stillwood Road.
To Savannah Country Day Stadium from I-95
Take Exit 94 to Savannah. This is Hwy 204 which becomes Abercorn Street. Continue on Abercorn past Armstrong Atlantic University to Largo Drive. Turn right on Largo and then left on Windsor Road. Take a right on Stillwood and then a left into the school. The main administration building is to your left as your drive dead ends. The athletic complex is to your right.
Individual defensive stats now available through the Glynn Academy game. ------->
Stats
If you haven't heard by now, the GHSA has voted to play all the 2006 Georgia High School football championship games at neutral sites instead of at one of the participant's home field. Many believe in 2007, the finals will be permanently moved to the Dome in Atlanta. Along with this ruling, the first day of practice has been moved to the first week in August, which will eliminate the tradition of going away to team camps. It will also move the title games to mid-December. A petition is circulating on the internet that asks for the GHSA to rescind these decisions. Here is a link to the petition if you would like to read it. You can then decide if you want to sign or not. Click Link-------------> http://www.petitiononline.com/no2006/petition.html
Stats are updated through Windsor Forest game. Click--------> Stats